Read Time:
5 Minute, 53 Second
Knowledge is power.
That's usually something people say when stressing the importance of education, but you never really appreciate how true that saying really is until you're selling your own knowledge and experience. That's when you see just how much people are willing to pay for education.
And all you need to turn that knowledge into a source of revenue is a WordPress site, a good LMS plugin, and marketing tools that boost engagement. In a few minutes, you can lay the groundwork for a profitable online educational course that leaves your subscribers hungry for more.
Ready to get started? Check out our list of favorite LMS plugins and learn which is right for your WordPress site.
1. LearnPress
Want a powerful WordPress LMS plugin, free of charge? If so, LearnPress is the perfect platform for you.
LearnPress puts you in the driver's seat, enabling you to build and manage coursework any way you see fit. It comes with a wide range of free tools to help you get your courses off the ground. Best of all, LearnDash's professional bundle makes it easy to expand your services as your content grows, so that you can meet the needs of new and existing subscribers. These premium features include:
Course certificates.
A content drip add-on.
Management tools for tracking students, grades, and course content.
LearnPress also has an extensive library of free and premium add-ons which you can integrate into your eCommerce site, so you can make individual adjustments to your platform while paying for only the add-ons you need.
Keep in mind that LearnPress doesn't come with a setup wizard like most other WordPress LMS plugins. While you're able to exercise more control over your content, creating lessons takes a little more time and work.
Price: Free / $249.99 for PRO Bundle
Ideal for: People looking to minimize start-up fees associated with their online courses.
Drawback: Lack of setup wizard can create a learning curve for beginners.
2. LifterLMS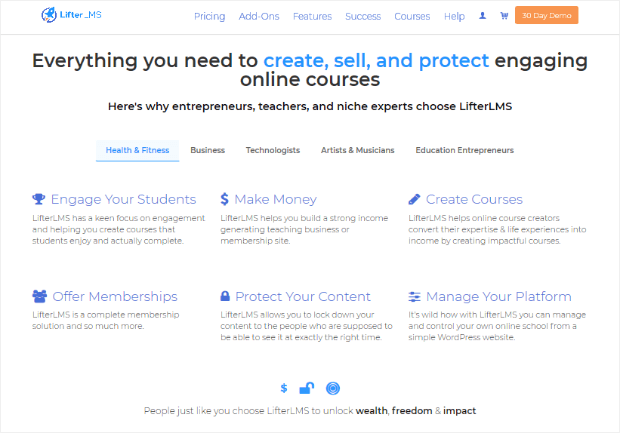 Whether you're offering a couple of individual programs or a collection of Massive Open Online Courses (MOOCs), LifterLMS has everything you need, from content management tools to add-ons that target specific segments of your market.
Perfect for building comprehensive courses or training programs, LifterLMS makes it easy to expand on your content by adding course prerequisites, training modules, group memberships, and other tools you can use to customize coursework for specific individuals or entire classes.
But that's not all. LifterLMS comes with a number of other awesome features that maximize engagement and customer satisfaction, including:
End-of-course certificates and achievement badges.
Automated emailing.
Support for Stripe, PayPal, and Authorize.net.
You can even integrate LifterLMS with other marketing tools, like MailChimp, WooCommerce, and WPForms to boost conversion rates even more.
Price: Between $99 and $999 a year, depending on the plan.
Ideal for: People who want to build scalable Learning Management Systems that cater to the unique needs of individuals and small groups.
Drawback: Can quickly become expensive if you need to purchase a lot of add-ons.
3. LearnDash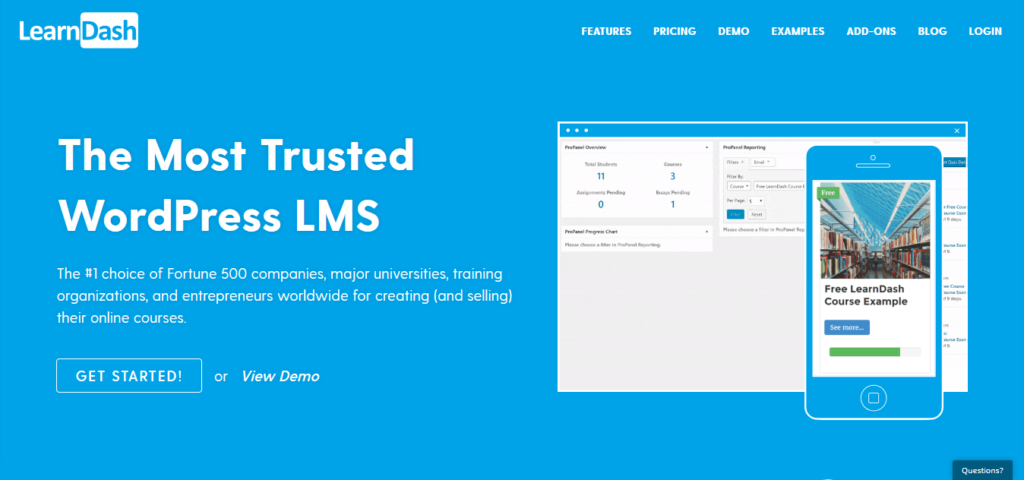 When it comes to accessibility, the LearnDash WordPress plugin is arguably one of the easiest and most convenient LMS plugins on the market. Its intuitive drag-and-drop design makes it simple for anyone to create quizzes, training programs, and exams with a click of a button.
LearnDash lets you create customized courses that meet the needs of your subscribers. Whether you're setting prerequisites for students or you want to schedule content using its built-in drip feed feature, LearnDash makes it easier to optimize engagement every step of the way. Also, it's one of the few WordPress LMS plugins to support SCORM.
Popular LearnDash features include:
The ability to choose between membership, subscription, and one-time pricing options.
Test and course management tools, like gradebooks, student metrics, and profiles.
Compatibility with most popular payment gateways.
Another awesome LearnDash feature is the optional Course Points setting. Here, students can earn points from completing tasks and lessons, and they can then spend those points unlocking new courses. Not only is it great for increasing engagement, but it's also a great motivational tool that keeps students wanting more.
Price: Between $159 and $329 a year, depending on the plan. If you want a free alternative that offers many of the same features as LearnDash, take a look at MasterStudy LMS.
Ideal for: Anyone looking for a powerful WordPress education plugin that's easy to set up and offers an ever-growing range of add-ons and third-party integrations.
Drawback: It has to be integrated with a third-party plugin like WooCommerce or Easy Digital Downloads in order to implement comprehensive payment options.
4. Sensei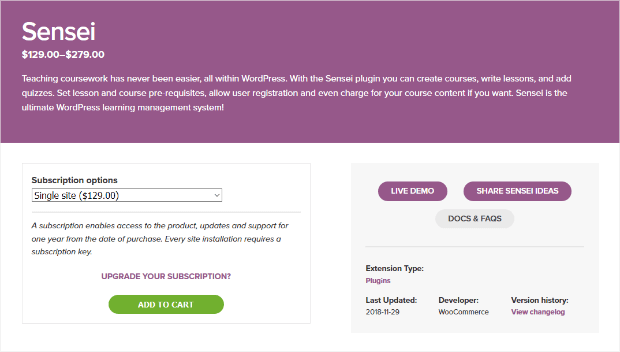 Sensei is an LMS and WordPress course listing plugin created by Automattic, the same company behind WooCommerce and WordPress. As such, Sensei interacts smoothly with both platforms, making it easier for users to implement the plugin into their WordPress sites.
One of the biggest advantages you get with Sensei is its simplicity. It's arguably one of the easiest plugins to navigate, making it an excellent choice for entrepreneurs searching for an online coaching plugin for their WordPress site.
However, Sensei doesn't offer much beyond your basic LMS tools. You have to integrate it into WooCommerce in order to monetize your courses, and you'll need to purchase additional add-ons if you want advanced features like certificates, content drip, and student management tools; all of which are features that come standard with many other WordPress Learning Management System plugins.
Price: Starting at $129 for one site.
Ideal for: Merchants already running a WooCommerce store and interested in basic LMS services.
Drawback: Not a lot of additional features or add-on support. Best suited for people running simple courses and short training programs.
5. WP Courseware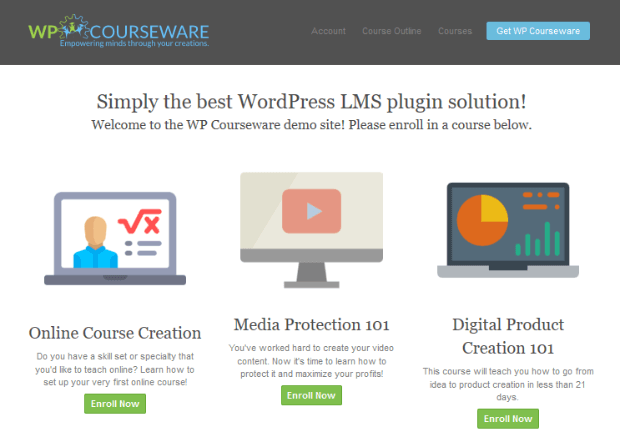 Powerful and easy to use, WP Courseware lets users create online courses with its intuitive drag-and-drop platform. Designed to be hassle-free and easy to learn, WP Courseware makes it possible to create custom-tailored courses in a matter of minutes.
Once you've got the structure of your course in place, you can use WP Courseware's advanced tools to further customize your services. These features include:
Personalized emails sent automatically to students based on their activity.
Advanced testing tools like timers and retake limits.
Instructor and student gradebooks.
One thing to keep in mind if you go with WP Courseware is that the platform doesn't come with its own payment processing gateway. If you want to monetize your content, you'll need to integrate it with an eCommerce plugin that accepts payments.
Price: Starting at $129 a year for two sites.
Ideal for: Anyone looking to a flexible LMS plugin that's convenient and quick to learn.
Drawback: No built-in payment support. If you're looking for a plugin that's just as user-friendly and has extensive payment support, try Good LMS.