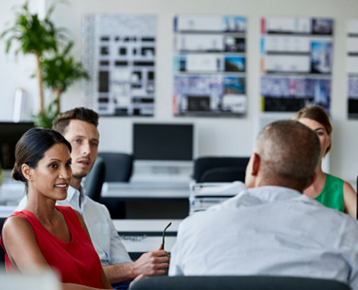 Best Paid & Free WooCommerce Email Customizer Plugins
Why Use WooCommerce Email Customizer Plugin?
There are many online stores using default WooCommerce emails, so if you just add any customization to your emails, you are going to stand out from the competition.
To be successful in business, you need to have something that makes your business instantly recognizable. Your branding needs to be consistent across all the channels that you use to communicate with your customers.
Transactional emails are not there only to confirm the order a customer has just made, they also have a number of other uses. The first email that a customer receives when they have signed up to your mailing list could persuade them to make a purchase.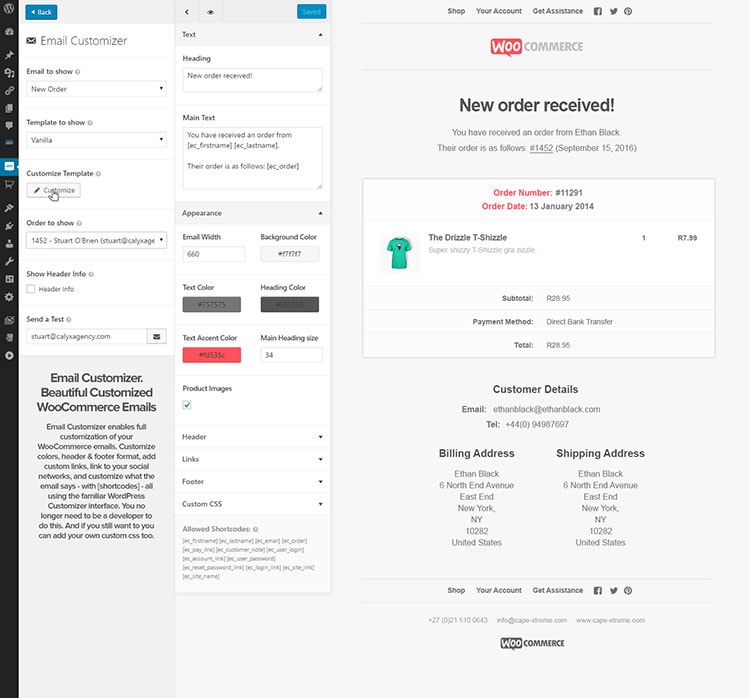 When a purchase has been made, the email confirming purchase can give details of other products that the customer may be interested in. This way, you are providing the customer a look at your products without even directing him to your site.
Advantages of customized emails:
Your emails will be visually appealing and impressive
The emails can be designed so that they meet your needs
Conversions and engagement will increase
The emails can be made interactive
Your business will appear professional, and this will increase consumer confidence
Best WooCommerce Email Customizer Plugins
There are several WooCommerce email customizer plugins available, and it can be hard to know which one is going to be best for your circumstances. Some of the best plugins are listed below with a description of their features so you can easily make your decision which one best fits your needs.
1. Email Customizer for WooCommerce with Drag and Drop Email Builder – $49
This is a straightforward plugin to use due to the drag and drop functionality. You just need to select the email sample you want to use, and you can begin the customization process.
The types of things that you can add to an email using this plugin include logos, images, and social media icons. You are also able to edit the header and the footer of the email.
This plugin differs from a lot of others as it allows you to edit the body of the email, not just the header and footer. The drag and drop builder is straightforward to use and can help you create professional emails.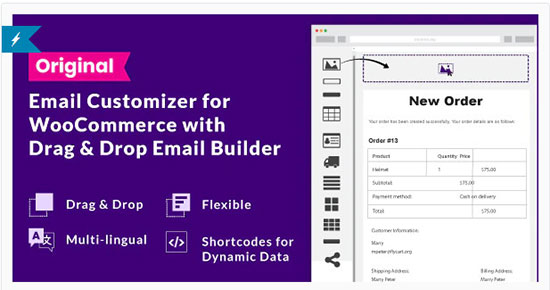 Email Customizer for WooCommerce plugin has several other elements that can be added to emails, which will help your business get the most out of any emails sent. One example of these elements is the ability to add a coupon to an email.
Coupons can be used by the customer to get a discount on the next purchase or any other type of discount that you want to offer. These types of offers can be very effective at encouraging customer loyalty.
All default emails that are available through the WooCommerce platform can be edited using this plugin. You can design and customize all the default emails like New order, Cancelled order, Failed order, Order On-hold, Processing order, Completed order, Refunded order, Customer Invoice / Order Details, Customer note, Reset Password, and New account.
2. WooCommerce Email Customizer – $79
The WooCommerce team designed this plugin, so it is one of the better options in terms of functionality. If you want to customize your emails but still fit with the WooCommerce style, then this plugin is a good choice.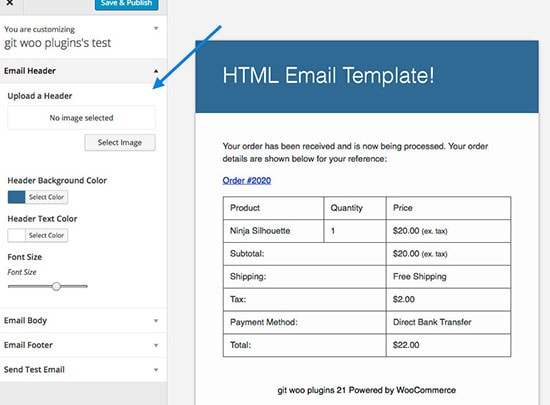 WooCommerce aims to keep things simple for customers and businesses that use their platform. This simplicity can also be found in the WooCommerce Email Customizer plugin, and so it may not be suitable if you want to make a lot of changes to the default emails. However, if you are looking to keep things simple, then this is a perfect choice.
Some of the notable features of this plugin are:
All default emails can be customized with their own design
The customizer makes use of drag and drop
You do not need any coding knowledge
3. WP HTML Mail – Email Designer – FREE
This is a free plugin that will allow you to design your emails so they can be used as you want them to be. The text and images in the email can easily be changed, and you can add and edit pictures.

The alignment of the email can also be altered. The plugin has a live preview feature which you can use to see what your changes will look as you make them.
4. Kadence WooCommerce Email Designer – FREE
You can make changes to WooCommerce default emails with Kadence WooCommerce Email Designer without needing any knowledge of coding. Kadence comes with several additional styling options.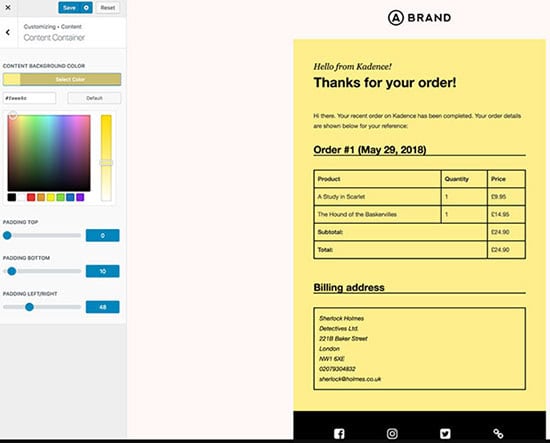 There are pre-built templates within this plugin that can be imported to WooCommerce. Once the template is imported, then you can make further changes to the layout if needed.
The customizer is used to select the email that you want to edit, and then you can make changes from there.
Notable features of the plugin include:
Live editing of WooCommerce emails
Importing of pre-built templates
The font, text, color and other aspects can all be customized
Customized settings can easily be imported and exported
Inbox email testing
5. Email Customizer for WooCommerce – $30
WooCommerce emails can be fully customized using Email Customizer for the WooCommerce plugin. This includes every aspect of the email, such as headers, footers, colors, social media links, text, and images. You will need to use a shortcode with this plugin and makes use of WordPress customizer.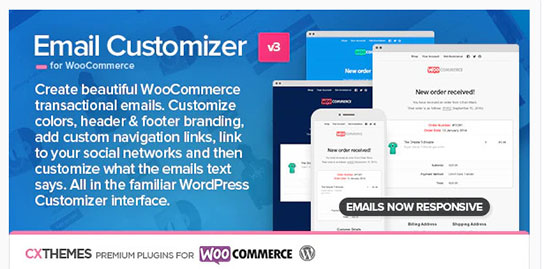 The plugin also contains a live editor, which means that you can see these changes as you make them. You can check everything is in place before it is sent out to your customers.
This plugin works particularly well for:
Offering a completely customized email with your own social media links and being able to change the message within the email
Being able to see what the customer will see before the email is sent so you can make any necessary changes
Being able to preview the changes that are made to any template
Resending certain emails such as invoices from orders
6. YITH WooCommerce Email Templates – 59.99 EUR
YITH WooCommerce Email Templates plugin includes templates for emails that can be sent when customers register on your site and when they purchase a product. These emails can be customized so that you can create something professional that customers will associate with your brand.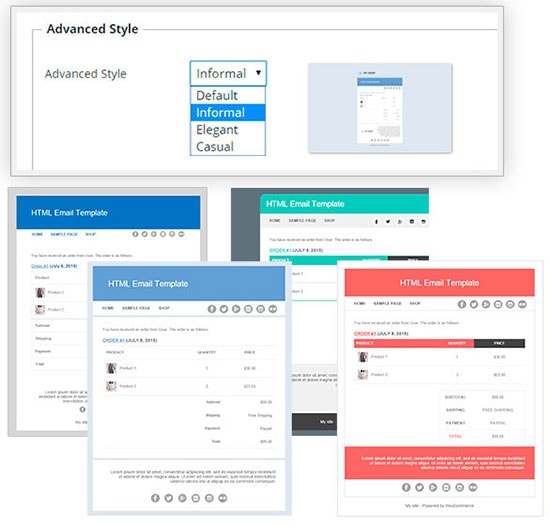 You can add your own logo to the email as well as change the typography, font, and colors. This allows you to match your emails to the design of your website. You can also use some of the pre-set designs which have been created by UX designers with the needs of business owners in mind.
Features of this plugin include:
All WooCommence emails can be stylized
All WordPress emails can be stylized
Set a default logo that can be used in all templates
Place a logo in the header of emails
Show a preview of the email that you have created
Set up different templates for different types of email
The choice of four available templates – default, informal, elegant and casual
Advanced style options can be used to change the colors and the typography of the email
Customized links can be added to the header of the email
Add the links to all the social media sites
The product image can be deleted from the content of the email
Add different footers for different emails.
7. Visual Email Designer for WooCommerce – PAID ($99) and FREE
Visual Email Designer for WooCommerce plugin can be downloaded from the WordPress repository for free. You can use it to send customized emails to your customers.
You can create templates for each of the default emails that WooCommerce offers, and these emails can be grouped according to the products that they are being sent for.
There is also a premium version of the plugin that gives even more functionality than the standard version.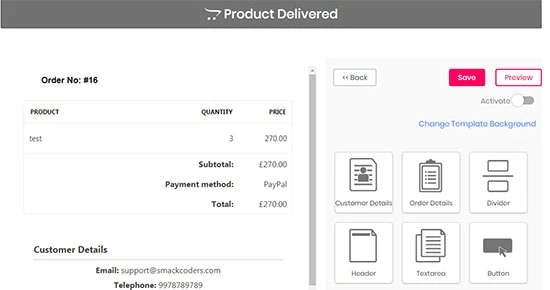 One advantage that this plugin has over others is that it includes a template for an additional email called Product Delivered so that customers can be notified when their product arrives.
When it comes to designing, there are three templates category that you can go with:
Order based template
Product-based template
Category based template
To create a template that is order based, you will need to add a new template and then give it a name. There will be a drop-down menu where you can find the option to create a new order based template. When the template has been completed, you can click on the Update button, and this will save the changes that you have made.
If you want to create a different order email for every product that you sell, then this is something you can do with this plugin. You can choose the product as the Design Template Type and add that specific product to the template. When you have finished designing the template, then it can be saved.
If you have too many products in your store to create individual emails for, then you can create a template for product categories instead. This is done in the same way as above, but you will need to select the category as the template type instead of the product.
You can use this plugin for free or go with a premium version for $99.
8. WooMail – WooCommerce Email Customizer – $29
There are more than ten predesigned email templates included in the WooMail plugin that can be used with WooCommerce.
The customization process is straightforward, and once completed, you can preview the email as customers will see it. You can even send a test email to make sure that everything is working.
One of the biggest advantages of using WooMail WooCommerce Email Customizer plugin is that it has a recommended products feature. This will include other products that may interest the customer in the email, which can increase sales.
There is a good chance that you are going to find what you are looking for with this plugin as the templates are designed specifically for WooCommerce. If you do want to make changes, then you can use these templates as a starting point, which can potentially save you a lot of time.
Notable features of this plugin include:
Extensive options for customization
Visualization of changes as they are made
More than ten predesigned templates
Testing emails before they are sent to customers
Unlimited use of shortcode
Recommended products feature
9. WooCommerce Email Customizer by Themehigh – FREE and PAID ($39)
WooCommerce Email Customizer by Themehigh is not a drag and drop builder, but it has functions that work similarly. It is a live builder so you can see the changes you are making to the emails in real-time.
There are more than fifteen creative elements in this plugin, and this will allow you to customize the templates as you like.

Every type of template can be changed using this plugin, which is one of the reasons it is so popular. The templates tab makes it easy for you to assign your customized emails to the email type that it will be used for.
Notable features of this plugin include:
Customizations are shown in real-time
Over fifteen different design elements
Templates can be easily assigned
Hooks from WooCommerce emails can be added
Dynamic data is included along with placeholders
10. MailPoet  – FREE and PAID
MailPoet is a complete email marketing solution for WordPress and WooCommerce. In addition to their WooCommerce email customizer, you can also use the plugin to send your regular newsletters, last post notifications, and WooCommerce follow-up emails.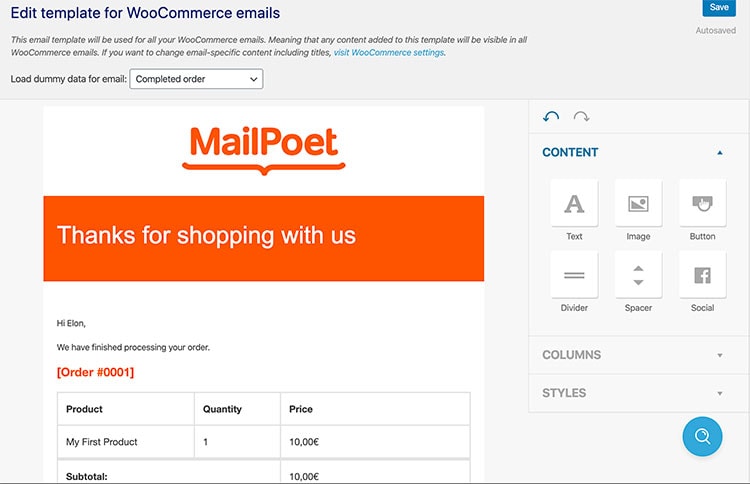 The plugin is free if you have less than 1,000 subscribers, or if you connect it to your own email sending service. Beyond that, plans start at €13/month.
MailPoet's built-in WooCommerce email customizer allows you to quickly and easily add logos, columns, buttons, additional text areas, social icons, and images to your transactional emails using a drag-and-drop editor. You can also change the font and color styles used throughout your WooCommerce templates.
If you're concerned about WooCommerce emails being delivered, MailPoet also offers its own transactional email sending service.
Notable features of this plugin include:
Easy to use drag-and-drop editor
Visualize the changes as you make them
Enables you to add extra content areas and manage their layout
Transactional email sending included
Full suite of other email marketing features included, such as abandoned cart emails and automated purchase follow-up campaigns.
Customizing Your WooCommerce Emails Conclusion
Customers will expect your business to be professional when they make a purchase, and they will expect to see this professionalism in any emails that they receive from you.
There is more to customizing emails than just including your logo somewhere in the header. You also need to make your text stand out, and the plugins that have been discussed above can really help you with this.
Making the right first impression is crucial in business, and you don't want to let yourself down by sending generic emails.
If you have a well-crafted email, it will help you in strengthening the relationship with the customer. You do not want to leave the reputation of your business in the hands of generic and dull email.